Custom plastic injection molding is an ideal solution for producing high-quality, complex parts in large volumes. 
If you're considering a plastic part or mold for your production needs, you may be wondering what you need to request a quote. 
In this blog post, we will discuss the benefits of plastic injection molding, what to have ready when getting a custom injection molding quote, and factors to consider when choosing an injection molding company.
After reading this blog post, you will have a better understanding of how to get an accurate and efficient plastic custom injection molding quote.
Definition of Custom Plastic Injection Molding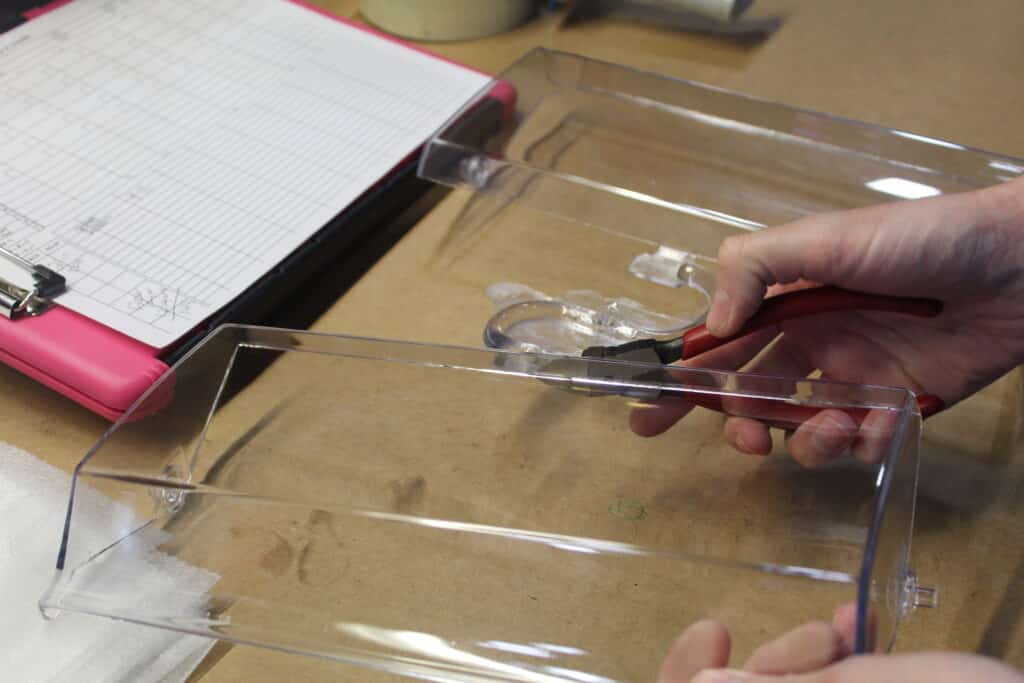 Plastic injection molding is an incredibly useful and cost-effective process for creating custom plastic parts and components. It involves the use of melted plastic that is heated to a liquid state, then injected into a mold to create the desired shape. After the plastic has cooled, the parts are removed from the mold and ready for use.
This process offers many advantages, including cost savings when compared to other manufacturing processes.
Plastic injection molding also allows for high levels of accuracy in terms of product dimensions, as well as a wide variety of shapes and sizes that can be produced with minimal effort. Furthermore, this method produces high-quality parts with consistent surface finish and minimal waste material.
6 Things to Have Ready for a Custom Plastic Injection Molding Quote
Are you ready to get a quote for plastic injection molding services? Before you request a quote, it's important to have all the necessary information gathered and ready. Here's what you should have on hand: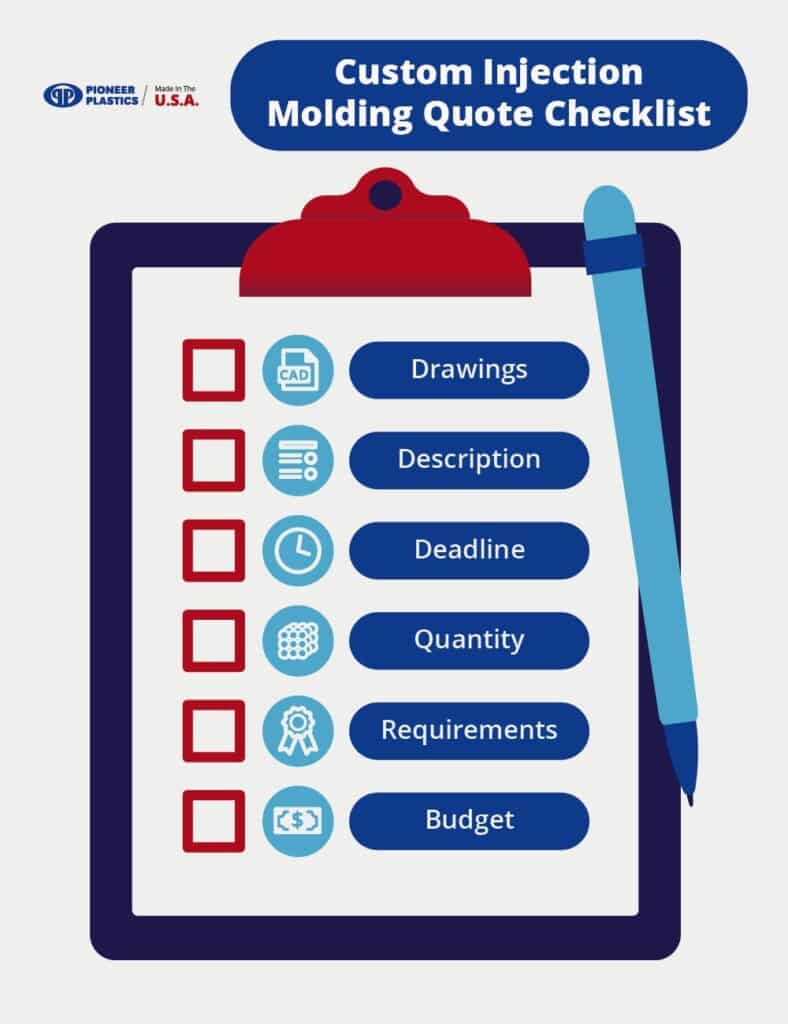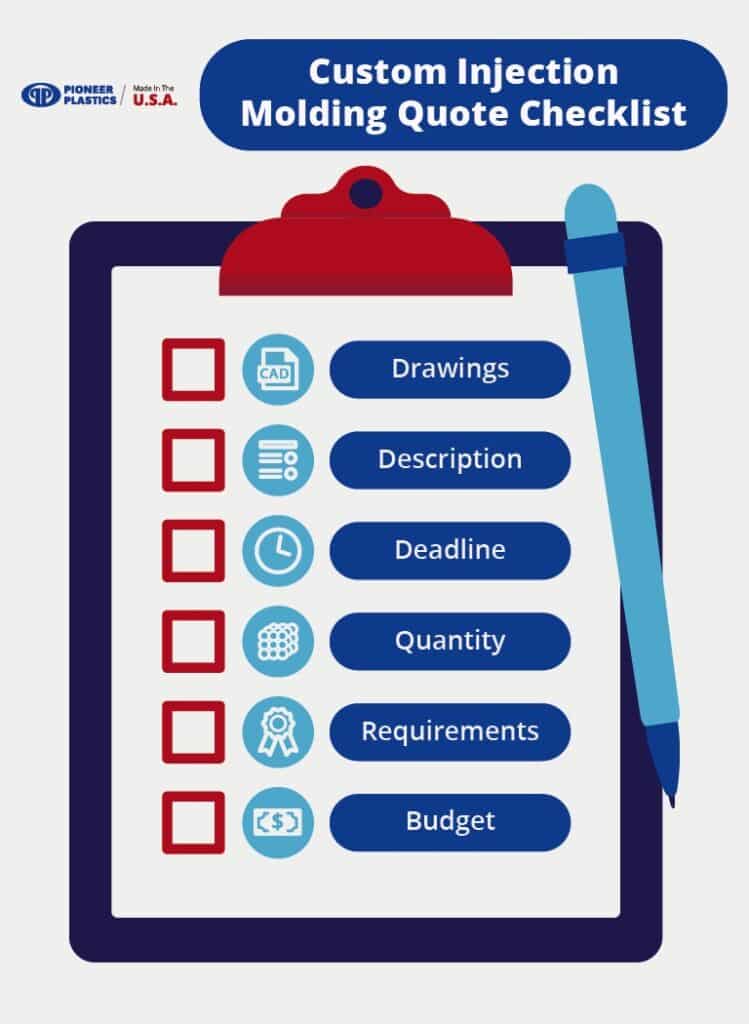 Detailed drawings or designs of the parts you want to create will be tremendously helpful for getting an accurate estimate. You can work with the molding company who can assist in creating these designs and drawings but if you already have them ready, providing CAD files will help speed up the process. This should include any special features or design elements that are unique to your project.
Be sure to include measurements, specifications, unique design elements or special features so that the molding company can accurately calculate the cost of production.
2. Description of Intended Application
Provide information about the intended use of the plastic part. This helps the custom injection molding manufacturer better understand your needs, and will help determine what materials would be best used, etc.
Provide a timeline or the deadline date of when you need the parts to be produced. This will let the molding company know if they can meet your deadlines, as well as any additional costs associated with expediting production.
4. Quantity of Parts Needed
The custom injection molder will need to know the number of pieces you need to produce. Knowing how many pieces are needed will help in calculating setup costs and other fees associated with production runs.
If the quantity you need is less than 1,000 pieces, then custom injection molding is likely not going to be a cost-effective route, as it is best for high-quantity production needs.
Any special requirements such as specific tolerances or certifications. If there are any specific requirements for your parts, make sure that these are communicated clearly beforehand so that the molding company can provide an accurate quote.
Letting the molder know your budget upfront will allow them to provide an accurate quote that fits within your financial constraints while still delivering quality results.
Having all this information ready before requesting a plastic injection molding quote will ensure an accurate and efficient estimating process.
3 Key Advantages of Plastic Injection Molding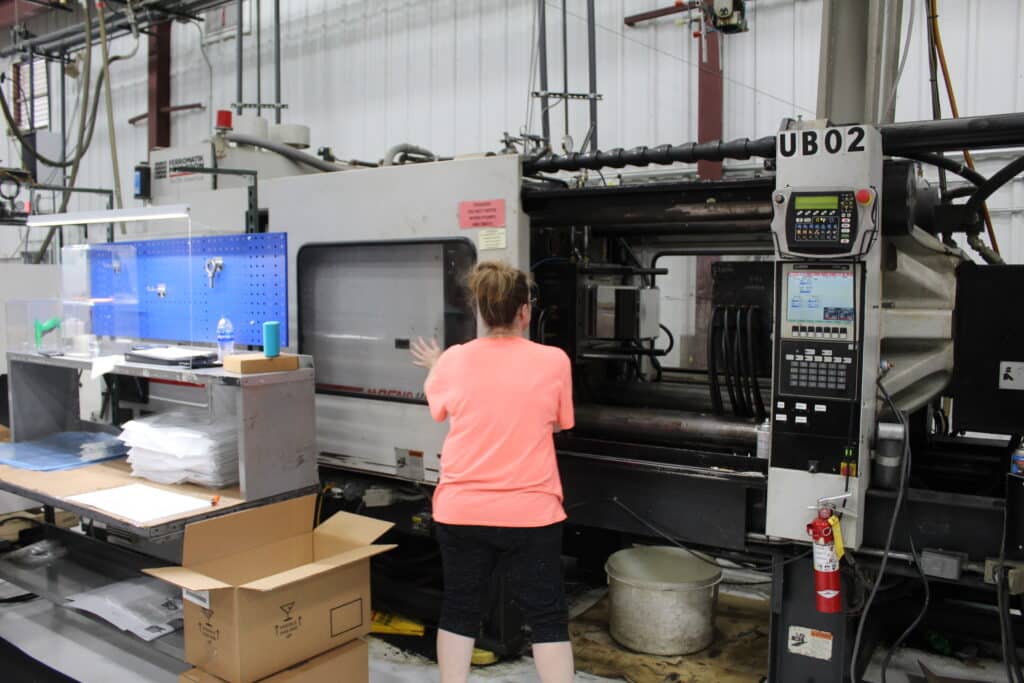 Plastic injection molding offers a range of benefits for businesses looking to produce custom plastic parts and components.
Short Lead Times – Lead times are typically quite short, so you can get your parts faster than if you were using other methods. Automation capabilities allow you to streamline production and reduce costs even further.
Design Flexibility – The range of sizes, shapes, and colors that you can achieve with plastic injection molding is also impressive. You'll be able to produce parts that have complex geometries or intricate details without sacrificing accuracy or repeatability. The precise control over the size, shape and finish can eliminate the need for secondary operations such as painting or finishing. Additionally, injection molding can be used to create complex shapes that may not be possible with other manufacturing processes.
Cost Effective -The cost per part produced through plastic injection molding is often very low compared to other methods. And since there are so many types of plastic available for use in this process, you'll have plenty of options when choosing the best material for your project. Do keep in mind that there is a tooling cost involved which can range anywhere from around $15K – $100K or more for projects within most molding company capabilities. While custom injection molding is a cost effective method, it's important to understand what goes into the costs that are involved.

This process offers many advantages that make it an attractive option for businesses and entrepreneurs who need to create a large number of parts in a short amount of time. Do understand that all three of these key advantages are dependent on the quantity being produced.
Design Considerations for Plastic Injection Molding
Design considerations for plastic injection molding include wall thickness, undercuts, draft angles, moldability, part weight and complexity. 
Wall thickness is important as it affects the strength of the part and how quickly it can be molded. 
Undercuts refer to features that cannot be extracted from a cavity without cutting away material or using special tooling. 
Draft angles are used to ensure the parts can easily be removed from the mold during production.
Moldability refers to how well a design fits into an injection mold with minimal adjustments required in order for it to work correctly. 
Part weight and complexity also affect the cost of producing parts as they require more time and resources to complete.

In addition to these design considerations, it is important to ensure that the part will be able to withstand the injection molding process. This includes ensuring that the part will maintain its size and shape after it is cooled. 
How to Find a Quality Custom Injection Molder
When it comes to finding a quality injection molder to get a quote from, it pays to do your homework.
Research different injection molding companies to find one that is experienced and reliable. Look for companies that have a proven track record of producing high-quality parts and components and ask for references and samples of previous work.
It's also important to check the website to see if the company is certified and compliant with industry standards. Also ensure that the company is using quality materials, machinery and processes to produce parts with high precision and accuracy.
By considering these factors, you can be sure to choose a reliable and experienced injection molding company. 
With the right company, you can be sure that your parts and components will be produced accurately, efficiently, and cost-effectively.
Experienced companies can provide helpful advice and guidance throughout the process.
Save Time and Money with Pioneer Plastics Custom Injection Molding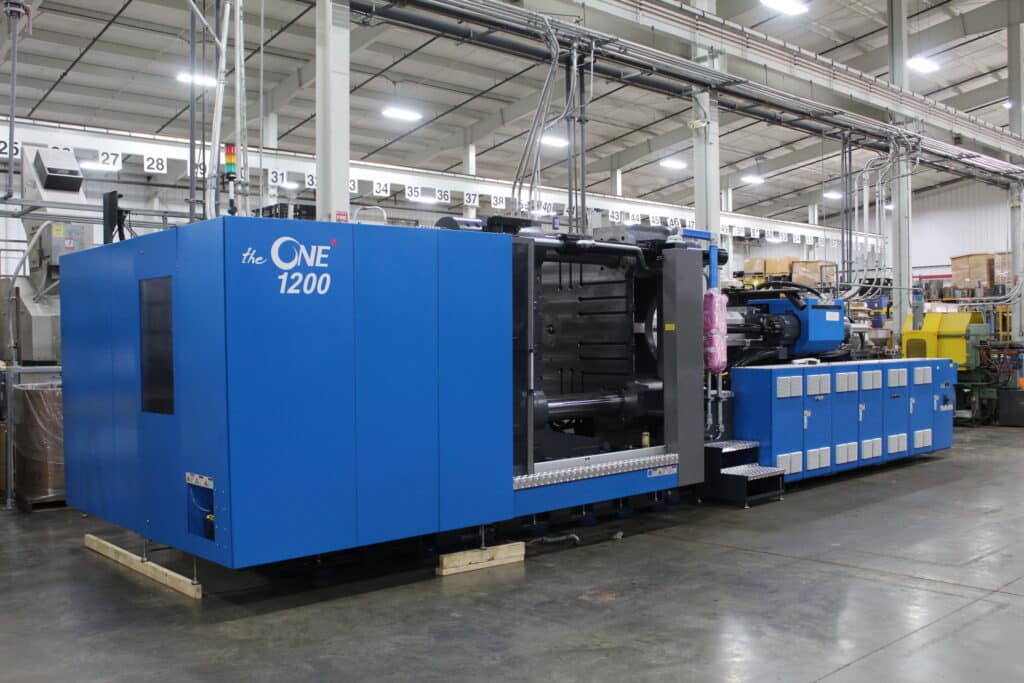 Creating custom plastic molds for your product can be a cost-effective and efficient way to manufacture the components you need at scale. 
When you're looking for a quote on your next project, make sure you have all the necessary information ready so you can get the most accurate estimate possible. 
At Pioneer Plastics, we understand how important it is for you to get a precise estimated cost and timeline.We are experts in custom injection molding and can help you find the right solution for your project. 
Contact us today to learn more about how our team of experienced engineers can help you create a quality product with precise specifications.