Want to bring your custom injection molding back to the United States? Read on to learn more about reshoring your supply chain back to the US.
Do I own the molds? Check your agreement with your supplier. If not, a new mold will need to be built or that mold purchased from an existing supplier.
Is it a mold or insert that is part of a MUD base? Understanding this helps the new molder know what to expect.
Are drawings and or part samples available? You must have these to get an accurate quote.
Is material and packaging known? Material and packaging requirements are a key part of understanding what it takes to get you a quality part.
Is the size of the mold known? Some molders can't run certain sized molds. Don't waste your time with a molder that can't accommodate your needs.
Are you able to get enough supplies before moving the tools? Transfer time or time to build a new tool will leave you without a way to get parts. Planning for this is important.
Reasons to Consider Reshoring
Global events. Think Coronavirus. Companies that purchase materials from China or other foreign countries have no access to their needed supplies in times of crisis.  
Offshore manufacturers may not assist with design. Often, the design is the most critical aspect of the process. If the design needs to be modified at any point, it's much easier to work with a domestic manufacturer to make adjustments. Communication barriers like differences in time zones, languages, and software systems often exist with offshore manufacturers. There are far fewer communication barriers with domestic manufacturers. 
Local manufacturers will keep your designs protected. Since trademarks are territorial, a U.S. trademark registration will not protect your design in a foreign country. Trademarks must be filed in each country where you want your design to be protected. If you need your design to be protected in multiple countries, the International Bureau of the World Property Intellectual Organization (WIPO) will allow you to file an international trademark application for up to 92 countries concurrently. Applying for international trademarks may add extra time and costs to the offshoring process, which are factors that you wouldn't run into with domestic manufacturers.
The quality standards of overseas manufacturers may not be the same as local quality standards. American manufacturers are held to strict laws and regulations regarding safety and quality. In addition to safety and quality, full regulatory compliance in the U.S. includes the makeup of resins and colorants (whereas, in international countries, those may not be included in regulatory compliance). These laws, regulations, and standards ensure the safety of employees and the safety of the product itself, so the customer can be sure that the product isn't toxic or dangerous. 
You won't be able to guarantee that international manufacturers are following rigorous standards like those set by the International Organization for Standardization (ISO), because no company is required to adhere to ISO standards. These ISO standard certifications are set to drive waste and costs down while driving product quality up. If offshore manufacturers are not ISO certified, it can result in poorer quality of materials, operations, and overall products. 
Longer supply chains equal slower turnaround time. An increase in distance means an increase in shipping time, shipping costs, and production time (due to time zone and communication barriers). Further distances can also mean unreliable delivery times because it can take weeks or even months to travel the distance. Offshore manufacturers may also be harder to reach- communicably and physically. 
Cutting down on transit makes domestic manufacturing a much eco-friendlier option. Your company will produce a much smaller carbon footprint by eliminating ocean shipping. According to the International Council on Clean Transportation, ships are responsible for 3% of global CO2 and greenhouse gas emissions (which equates to approximately 1 billion tonnes per year). Reliance on other countries can be detrimental to your business when importing and exporting capabilities are halted in the face of tariffs, tolls, pandemics, and government partnerships (or lack thereof). Reshoring your manufacturing services will protect your business from being hurt by these global situations.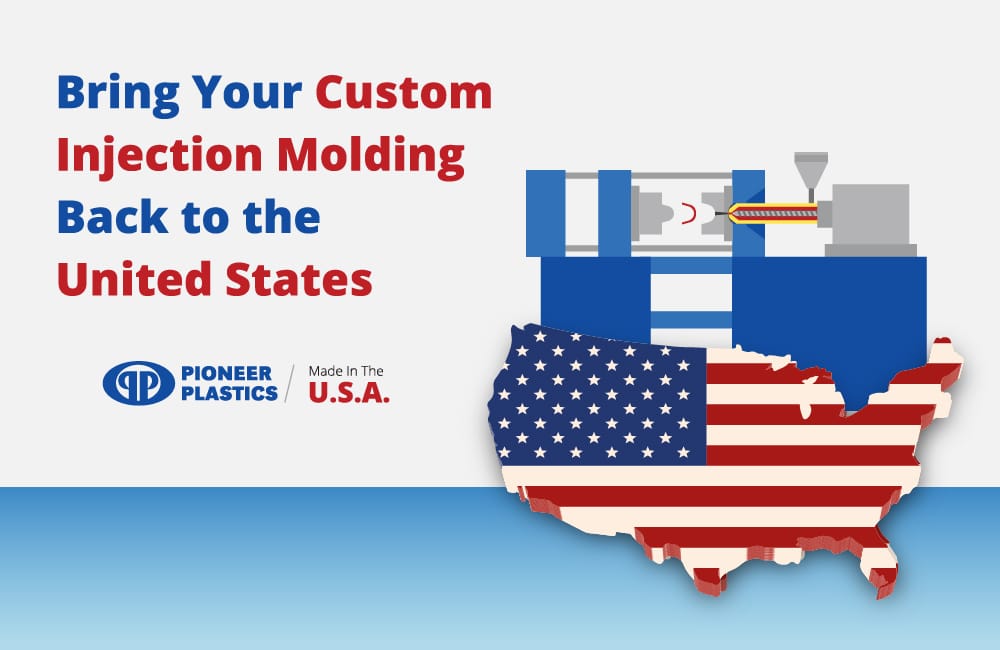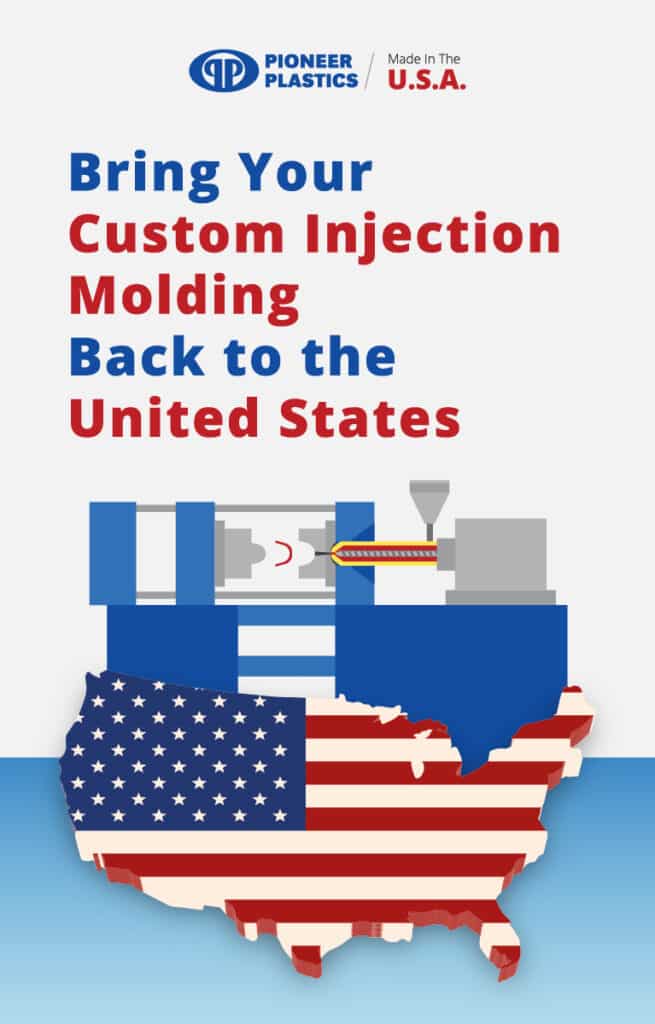 What to Do When Reshoring
If you want to use your existing molds, you'll need to pull them from your current supplier and ship them to your new supplier. You'll also want to send them the CAD drawings for the product if you have them. In the case that you are unable to have your molds shipped to the U.S., your new supplier will be able to use your CAD drawings to create new molds. Keeping your existing molds and designs will eliminate the costs of creating new ones – which can often be the most costly part of the process. 
Learn more about the reshoring initiative and use the total cost of ownership estimator to help account for all relevant factors when evaluating your sourcing of offshore manufacturers. 
At Pioneer Plastics, we can distribute the finalized part directly to you or your customers. This allows for faster turnaround time by eliminating the lengthy overseas shipping process. If you want to check on your project at any point in the process, someone from our services team will be available to answer your questions. We are centrally located in the United States, just a few hours from Indianapolis, St. Louis, Louisville, and Nashville. This location has excellent access to all major transportation networks, which allows us to ship your products quickly and efficiently. 
To get started on custom injection molding services at Pioneer Plastics in the USA, contact us today.