Whether you're about to ramp up existing production or add a new product line, you're probably experiencing a mixture of excitement and apprehension.
You may be excited because new ventures with the potential to increase your bottom line are always good for getting both the adrenaline and the imagination flowing. You may also be nervous and apprehensive, and understandably so, because you're well aware that within the manufacturing industry, even the slightest glitch can cause the entire enterprise to come tumbling down.
Perhaps, you've even heard horror stories of others who've had their dreams delayed or even momentarily dashed because of making a poor or overly hasty choice when deciding on an injection molding company.
The Benefits of Plastic Injection Molding
‌If you are new to this particular method of producing plastic parts, you'll be glad to know that it comes with many advantages over other plastic molding technologies. The major benefit is that this method combines simplicity with enhanced speed and optimal precision. Other advantages include the following:
‌The ability to handle complex part design
Material and color flexibility
Enhanced stability and strength of materials
Labor costs lower than those of traditional plastic molding methods
Reduced waste output‌

Custom plastic parts are used in a nearly endless list of products and product components, and there's a variety of manufacturers to choose from.
Fortunately, you don't have to play guessing games when it comes to finding the right plastic injection molding company for your particular product. Keep in mind that there's no one-size-fits-all answer in this industry, and what's right for one of your colleagues may not be a good fit for your specific circumstances. At Pioneer Plastics, we strive to help you bring your innovative ideas to life. Our experience with the injection molding industry has led to numerous opportunities with companies that require various custom injection plastic products and molds.
‌What To Know Before Finalizing on a Plastic Injection Molding Company‌
Partnering with the right injection molding company can make all the difference in the success or failure of your business. Here's what you need to consider when choosing plastic injection molding companies.
‌The initial question you should ask of any injection molding company you're considering partnering with is whether they have the manufacturing capacity to meet your needs and goals. Be sure to include any projected growth on your part into this calculation — you don't want to outgrow the partnership in several years and have to start from scratch with another service because your business has expanded.
‌The injection molding company should also have a proven track record of completing customer orders on time. Keep in mind that a delay on the partnered company's end can have adverse effects on your production schedule — which can ultimately translate to client disappointment.
A good way to determine if a company is reliable is to ask for client recommendations from those who have been using the service for several years.
Reliability also encompasses consistency — batches of products should be without variations in dimensions, material, or overall quality.
‌Injection molding is used in everything from toys for children to healthcare supplies and electronic housings. Plastic injection molding companies often specialize in a specific industry or a range of similar industries, and this is where they usually excel even if they sometimes provide services to fields that are not in their main wheelhouse.
‌Prototyping services provide an excellent way to get a preview of the finished project before you make a commitment to a specific injection molding company, helping you avoid costly mistakes if the finished product doesn't match your vision.
It can also give you the opportunity to make necessary changes before putting the green light on a large order.
All manufacturing processes can potentially introduce both cosmetic and functional defects, so a part quality checklist is a desired link in the production line chain after manufacturing has gone into full swing.
If defects are found to exist, the affected parts should be located and removed from the final results. One of the most important quality control components is making sure that all parts meet exact measurements. This is because, in some products, even a fraction of an inch can make a substantial difference in the usability of the end product.
Need for ‌Secondary Operations
‌Depending on your business objective, it's wise to investigate whether the company offers secondary services that may serve in a complementary capacity to your core production.
Costs can add up significantly, for instance, if it's necessary to have the items sent to another service provider for packaging, screen printing, and assembly.
‌Not all plastics are created equal — there is a significant range among available materials, and different types of products have different requirements.
Plastics used in items manufactured for use in a food and beverage environment, for instance, need to be of food-grade quality and adhere to certain purity standards set by the U.S. Food and Drug Administration. Food-grade plastic must contain dyes with chemical-resistant properties; therefore, high-density polyethylene becomes the most accepted choice.
‌Employee Training Levels
You'll also want to investigate the level of training and expertise of the employees at the plastic injection molding company under your consideration.
As plastics technology continues to evolve, your business needs to partner with a provider with employees on staff who are up on the latest innovations and techniques. Staff members should receive training that is designed to keep them current with the latest industry discoveries, methods, and trends.
‌Green Manufacturing Initiatives
‌A company's green footprint is also an important consideration when seeking a partnership for a high-volume manufacturing project. A commitment to sustainable environmental practices signifies an overall investment in safety, quality, and community.
As an added benefit, using a plastic injection molding company that includes environmentally responsible practices as a part of their overall bigger picture will serve as a positive sales feature in today's marketplace.
At Pioneer Plastics, the injection molding process doesn't waste materials. When a broken or unusable part is produced, it can be remelted and reused in another mold cavity.
The service you use must fit your budget. However, be sure to look at the big picture when calculating the potential cost-effectiveness of the companies you're considering — your bottom line won't flourish, for instance, if you decide to go with a low-priced provider that produces a substandard product. The good news is that injection molding is relatively inexpensive anyway due to state-of-the-art automations that streamline the manufacturing process with only a minimal amount of human interaction.
‌Track Record and Credentials
Doing a little background research on the company before making a commitment to its services can save you a substantial amount of hassles as well as help you preserve the integrity of your business and protect your bottom line. After checking the credentials, check for write-ups and other mentions in trade publications, industry awards, and available customer reviews.
‌ISO stands for the International Organization for Standardization, which develops internationally recognized standards relevant to manufacturing, materials, and processes. U.S. injection molding companies must adhere to U.S. standards, which may be higher than those in many parts of the developing world, but if you're going to be selling your products on the global marketplace, choosing a plastic injection molding company with ISO certification is the way to go.
Even if you don't currently sell in markets outside the U.S., leaving your options open for the future won't damage your bottom line.
Customer service falls more into the soft-skills category where there's plenty of room for subjectivity, but you want communication that is conducive to the development of productive long-term business relationships. Your contact at the company should be easily accessible, responsive, and knowledgeable. At Pioneer Plastics, we work as a team to handle your requests and provide information as quickly as possible. We ALWAYS answer the phone during normal business hours. You will never hear an automated attendant when you call us.
The Best Plastic Injection Molding Company Near You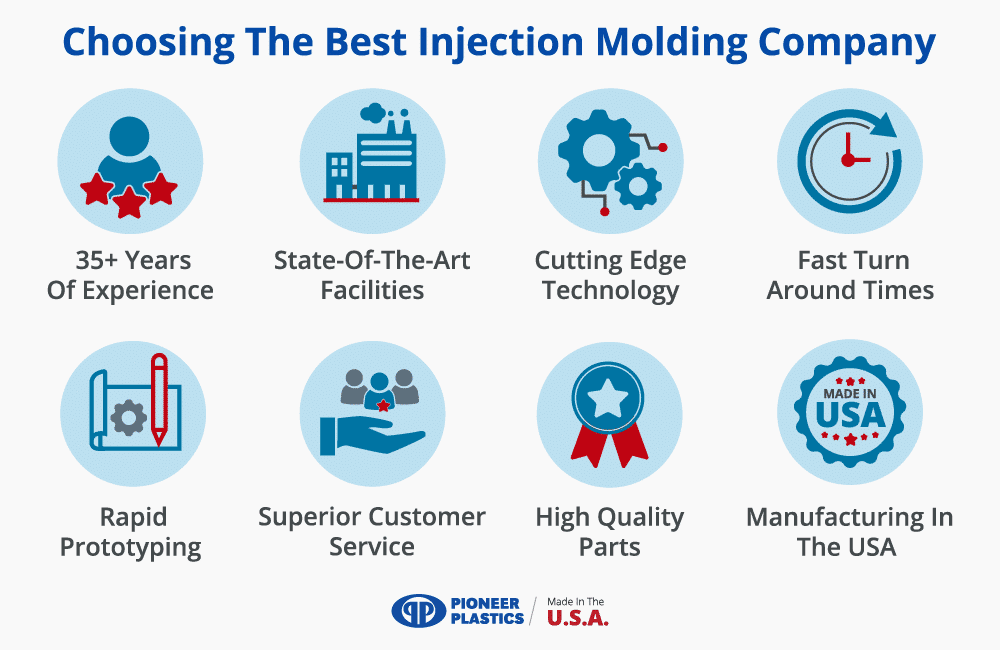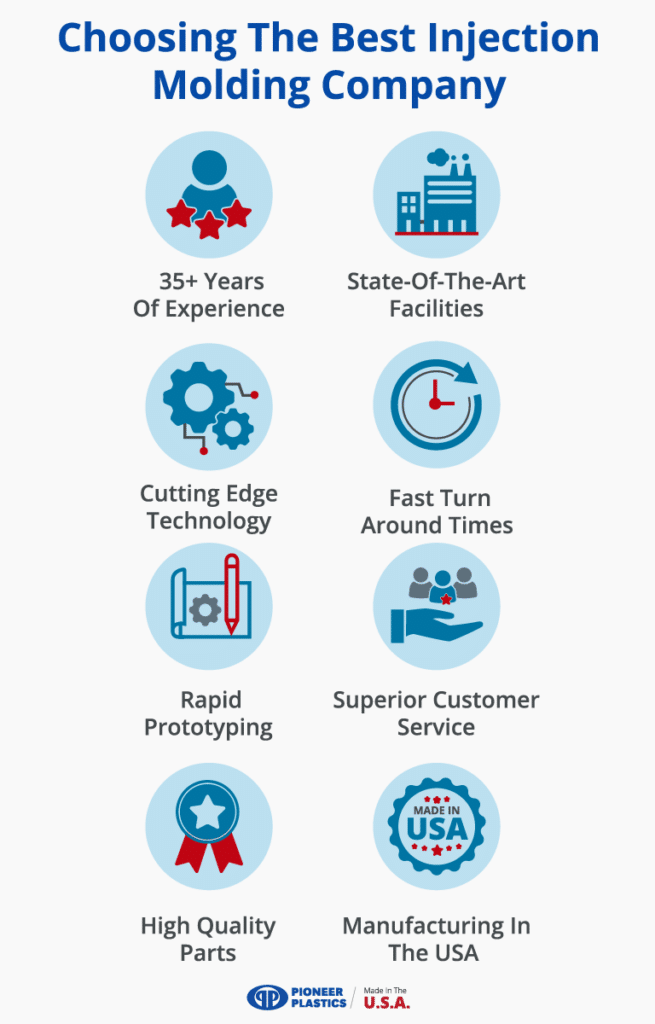 Pioneer Plastics brings 35 years of experience and expertise in injection molding to the picture. We offer state-of-the-art facilities, cutting-edge technology, fast turnaround times, in-house rapid prototyping, superior service, and an ongoing commitment to continual improvement as technology evolves.
We serve a variety of industries and pride ourselves in going beyond the basics to provide the kind of service that underscores to our clients that they're in the right hands.
Don't hesitate to contact us for more information on how partnering with our injection molding company can help your business thrive.