If you are looking for an easy and attractive way to showcase sweet treats in your store, check out these crystal clear diecast containers. The cut comb honey containers are conveniently available in 3 sizes – 14 oz, 11.5 oz, and 9 oz – and they are special for a number of reasons.
Superior Materials and Construction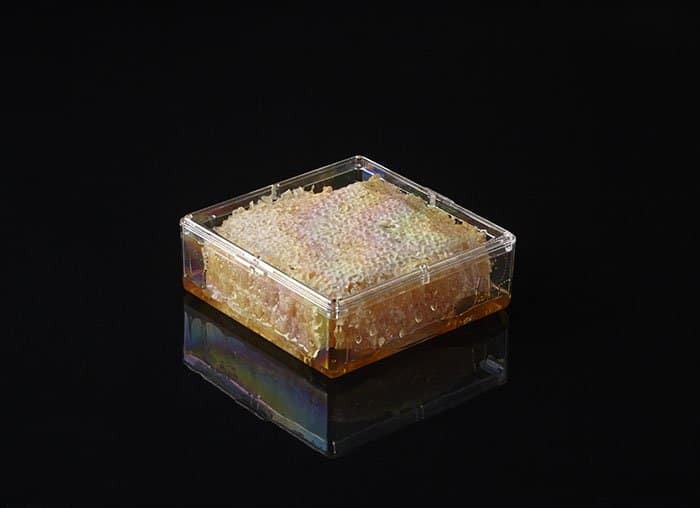 Diecast Honeycomb Container
Firstly, each container is made of high-quality, food-grade polystyrene. Along with superior materials, we use custom injection molding to form the square shapes, with the biggest one holding an impressive 14 oz.
Each clear plastic part has an insert lid too, which protects the yummy bites inside. It is also made of polystyrene that the FDA has deemed safe to use in contact with food.
Did we mention these diecast containers are sustainable, too? The lightweight, resource-efficient parts reduce waste and use less energy. These attributes make them great for packaging purposes.
High Functionality
The diecast honeycomb containers are multifunctional. Uses include honey packaging, holding candy and nuts, and storing dried fruit.
Your eatery's displays will look amazing with these bulk containers – get a range of sizes to add visual interest throughout the store as you fill them various delicious treats! The edibles will look even more appetizing in these containers. Plus, the see-through plastic (lid included) won't prevent customers from seeing what's inside, whether you have a candy store, bakery, ice cream shop, or other type of eating establishment.
The attractive diecast containers also are perfect for packaging candy and other foods. They can provide useful kitchen storage, too. Outside of consumables, the injection molded plastic containers can make life easier for those in science and education research, holding lab supplies, entomology laboratories, and in projects within the agriculture and research field.
Why not grab a few honeycomb containers today?
Plastic Injecting is What We Do
At Pioneer Plastics, we specialize in top-quality injection molding of plastic parts and diecast containers, providing them in bulk to any industry. Contact us now to learn more about how honeycomb containers can meet your food, laboratory, research or other needs. Also connect with us on our blog, Twitter, Facebook, and LinkedIn to learn more about how to sweeten your projects with our reliable offerings