Collecting Hot Wheels and other diecast cars is a pastime that many of us pick up in childhood. As a child, you mainly want to play with them. But when you're older, you may be more interested in collecting certain makes and models. Either way, you may end up with hundreds of diecast cars of varying sizes that need to be safely stored and displayed. 
Displaying your cars on a dresser or bookshelves is the easiest solution, but there are some definite drawbacks, particularly for the serious collector. Cars that are openly displayed will attract children with their sticky little fingers or curious adults who feel the need to pick them up. Even if no one enters the room with your cars (and really, what is the fun in that?), dust will settle on cars displayed in the open. 
Your best bet is finding or creating Hot Wheels display cases that will showcase your cars but protect them from sunlight, dust, and handling. 
Large-Scale Hot Wheels Display Cases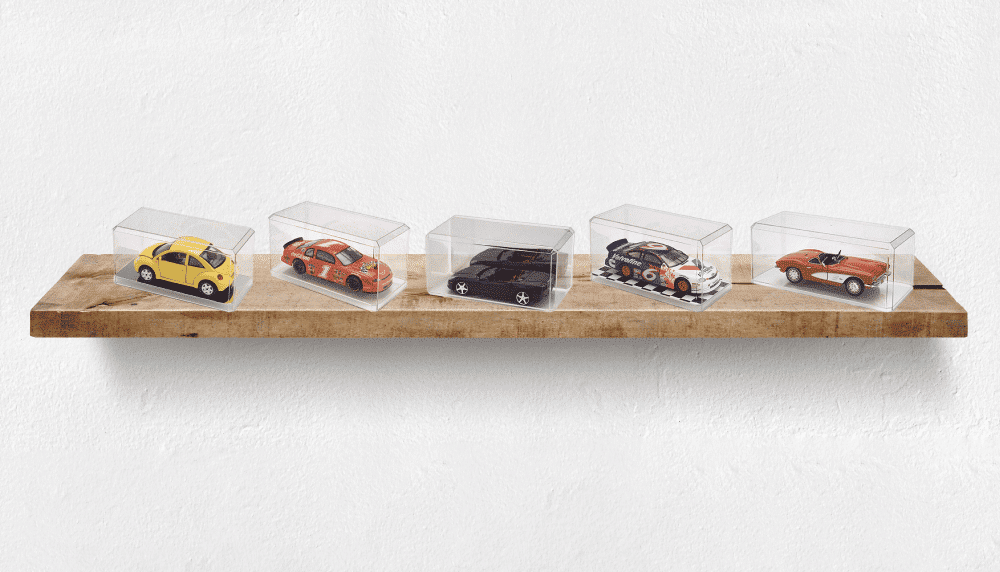 When displaying larger-scale diecast cars, 1:18 or 1:24 cases are more important and complicated than smaller ones. It is more important because most of these cars were designed to be showcased, not played with. This means they are more fragile and may not stand up to too much handling. Keeping them sealed away in an appropriately sized display case will enable people to look but keep them from touching. 
Displaying larger-scale diecast cars is more difficult because they take up more space. There are cases designed to display and protect your larger cars, but they provide limited space, and the cost can be prohibitive. 
A better option may be to buy individual cases designed to hold a single car. These close securely to allow you to display your cars anywhere without the risk of dust or manhandling. Consider these Hot Wheels display case options offered by Pioneer Plastics:
Displaying Smaller-Scale & Longer Models 
If the smaller-scale models, like Hot Wheels and Matchbox, are where your interest lies, you have many display options. If the cars you need to store belong to children and will be played with, you can purchase a Hot Wheels or Matchbox car case. These are made by the car manufacturer and are intended to keep the cars out of the way.  
You can also get creative and use a piece of PVC pipe in the right diameter or a fishing tackle box with the correct size cubbies to safely store smaller scale model cars. These options will protect the cars from dust and sunlight, but they do not allow easy viewing. 
If you are an adult collector, you will want a case that allows you to protect all of your cars while showing them off. In this case, you may want to look into these 1:64 scale display cases offered by Pioneer Plastic: 
Displaying Other Diecast Vehicles 
There are many types of collectible vehicles that may not fit display cases designed for more common sizes. Pioneer Plastics has display cases for these as well: 
Pioneer Plastics has just the right display cases to protect and show off your other unique vehicles, like trucks, muscle cars, Nascar cars, and toy tractors. 
To find out more about Pioneer Plastic's extensive selection of Hot Wheels display cases and cases for diecast cars of all sizes and shapes, visit PioneerPlastics.com.They have a huge selection of display cases for other collectibles as well.  hot