Temperature plays a huge role in the custom injection molding process– even helping to determine the type of resin the part is made from.
Resins that are specifically made for high temperatures contain properties that set them apart from other resins, making them ideal for parts that need to withstand extreme heat.
High Heat
Most plastics used in the market are only suitable for use at temperatures below 275°F. Resins that are resistant to high heat can withstand temperatures ranging from 275°F to 500°F without losing its shape and/or properties.
Uses
Plastics that are resistant to high temperatures are a light, versatile alternative to metal, ceramics, and older-generation polymers.
Thermoplastics are most commonly used in consumer products (like milk jugs) that won't need to withstand very high temperatures. Thermoplastics are also great for prototyping because the material can be reused for another prototype or for final production. Thermosets are most commonly used for parts that need to withstand extremely high temperatures.
Examples of industries that use high heat resins in their products are:
Automotive – gears, hot fuel systems, fuel reservoirs, ignition modules, oil screens.
Aerospace – lightweight aerospace components like brackets, gaskets, guides, seals, spacers, and washers.
Electrical – wiring, cabling, sleeving and electrical shielding products.
Medical – electronic equipment.
Industrial – Welding masks.
Restaurants – Pans, lids, and trays.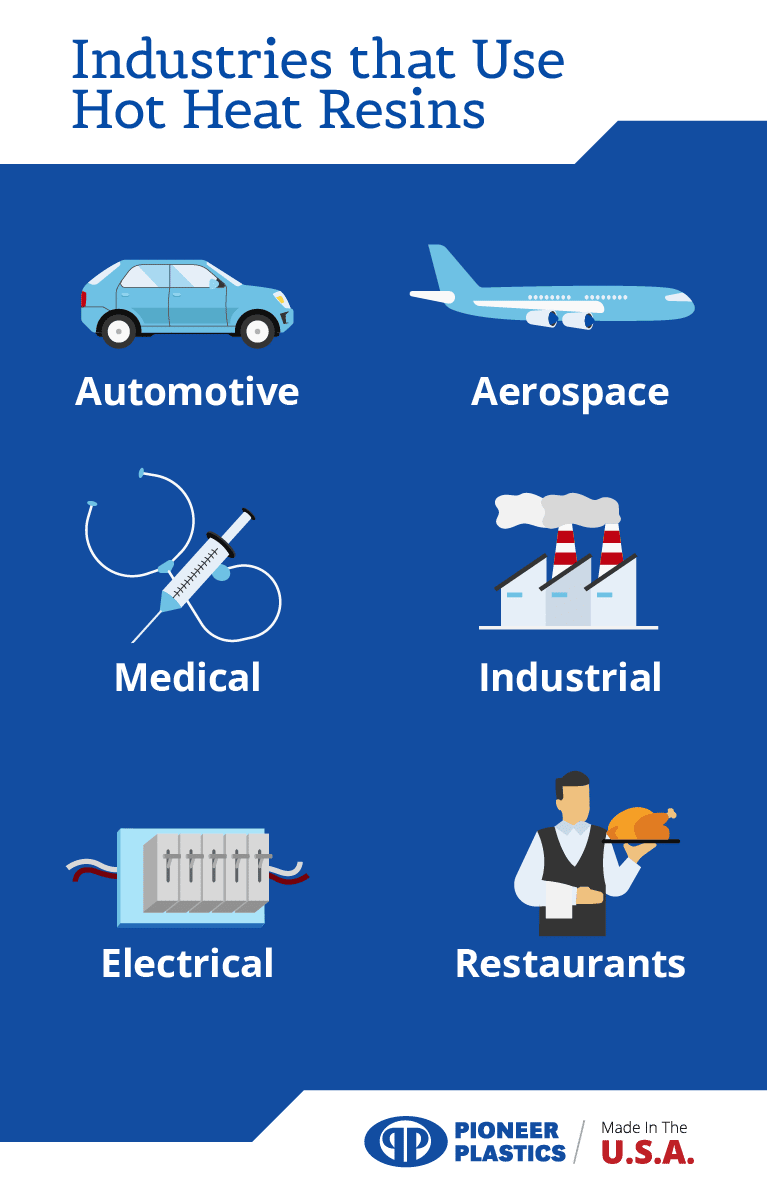 Mold Design
Custom Injection molding with high heat resins are atypical to conventional molding. From mold design to processing, each process is different for thermoplastics and thermosets.
The mold needs to be designed for extremely high heat temperatures and clearances. They also require a special mold-temperature control unit with oil to attain adequate high mold temperatures. An experienced mold processor should handle high heat resins to ensure that the process is completed without any defects.
Our Process
Pioneer Plastics has the equipment and experience to meet the heat resistance needs of your part.
If you have an idea for a custom plastic part, we can assist you every step of the way – from design to distribution. Contact us here to get a quote for custom injection molding services.