DIXON, Kentucky – Pioneer Plastics has been named Pizza Hut's STAR Award recipient for Overall Supplier of the Year, as well as Equipment/Smallwares Supplier of the Year for 2022.  This marks the first time Pioneer has received the Overall Supplier of the Year award and the fifth time receiving Equipment/Smallwares Supplier of the Year award.
In 2022, Pizza Hut aimed to make long-lasting improvements in back-of-house operations across 5,400 US restaurants, with a focus on the preparation and handling of their Hand Tossed dough.  "To enable this new process came a need for a custom and highly unique new smallware, but most importantly, a supplier partner that could be counted on to deliver an incredibly high-impact project with an aggressive timeline," said Shelby Stanfield, Engineer for Pizza Hut.  
Several designs were submitted by suppliers, with Pioneer's dough bin ultimately rising to the top.  The bin design aimed to address several issues for Pizza Hut by reducing dough preparation time, space needed for storage in walk-in coolers, and the number of dishes used daily while making dough storage more robust.  The project officially kicked off midway through 2022 with production starting in the fourth quarter and ending in January of 2023.
"This company and its dedicated employees kept the production running nonstop through the holidays, two significant snowstorms, and an arctic blast that has not been seen in years," said Scott Mestan, Sr. Ops Manager for Pizza Hut.  "Their dedication to this project led to over 137,000 custom bulk dough bins being produced on time and in-full."
The award winners were announced during a ceremony hosted by YUM! Brands in Huntington Beach, California honoring suppliers for Pizza Hut, KFC, and Taco Bell.
"I am proud of our team for their continual creativity and their commitment to exceeding our customers' expectations," said Eddie Knapp, President of Pioneer Plastics.  "This project was important for our success in 2022 and continuing a valued relationship with Pizza Hut."
Pioneer has partnered with Pizza Hut for over 30 years and is involved in designing new products to help them make pizzas quickly and consistently – ensuring the pizza that customers buy at their local Pizza Hut is the same as anywhere in the world.  
Pioneer Plastics is a family-owned injection molding company located in Dixon, Kentucky.  Since 1986, Pioneer has served numerous clients in a wide range of industries.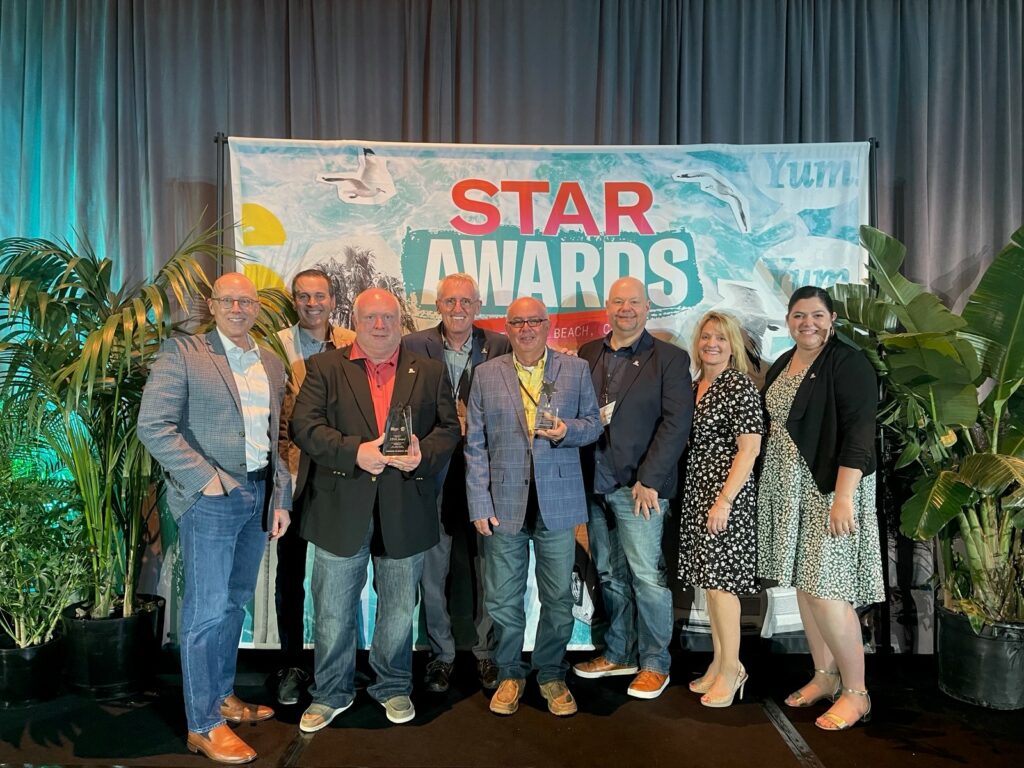 L to R: Scott Mestan (Pizza Hut), Eric Walton (Pizza Hut), Terry Winstead (Pioneer Plastics), Eddie Knapp (Pioneer Plastics), Todd Kamuf (Pioneer Plastics), Peter Graham (Pizza Hut), Debbie Fralick (Pizza Hut), Shelby Stanfield (Pizza Hut)