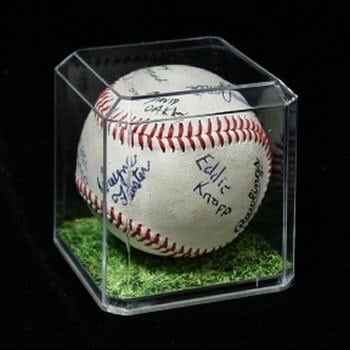 Whatever you collect, from books to memorabilia to antiques, protecting your collectibles should be a top priority.
If you have a home full of one-of-a-kind collectibles or vintage finds, you might have noticed that they're starting to collect dust. Or maybe it's not as easy to keep them organized as it was in the beginning.
Sun damage, dust, and age can leave lasting damage. It doesn't take much to wipe out years of effort and even thousands of dollars from your collectibles. But at the same time, you don't want to tuck them away in a dark closet where they can't be seen and appreciated. 
Whatever you value the most, it's time to put in the work to protect your collectibles and keep their memory alive for the years to come. In this article, we'll walk you through the best ways to keep your items clean, dust-free, and in perfect condition — without shutting them away from the world. 
Protecting Your Collectibles: Why Does It Matter? 
These days, everybody seems to be collecting something. 
You don't even have to be a dedicated collector to put together a collection of something that's special to you. According to Dr. Mark B. McKinley, professor of psychology and author of The Psychology of Collecting, everybody collects something: "Photographs of a person's vacation, ticket stubs from ballgames, souvenirs of trips, pictures of one's children, athlete's trophies, kids report cards." 
Why do people put together these collections? Dr. McKinley says it can be for a variety of reasons. "People collect simply for fun," he said. "People collect to preserve the past or a 'piece of history,' and people collect for social reasons, too, sharing their passions with 'like-minded souls.'" 
The list of items that people collect today seems to be endless. There truly is a collector for every type of item, no matter what piques your interest. Here are a few of the most popular items people collect: 
Antique toys
Autographed items
Championship rings
Baseball cards and souvenirs
Coins and stamps
Depression glass
Movie memorabilia

Whatever inspires you to collect, it's important to protect what matters most. To protect the integrity and the value of your collectibles, you need to create the ideal conditions. Most collectors store items inside their homes, which can quickly become an issue if they aren't stored or displayed properly.
Temperature, humidity, improper handling, sunlight, and even fluorescent lights can cause irreversible damage to your items. Once collectibles are damaged, their value can plunge. Beyond the monetary loss, you could lose the personal value of holding a piece of your collection in pristine condition. 
How Do You Protect Your Collectibles?
It doesn't matter whether the value of your item is monetary or sentimental. To keep your collection in perfect condition, you need to invest in the right protection for your collection. 
Let's walk through steps you can take to make your items last a lifetime.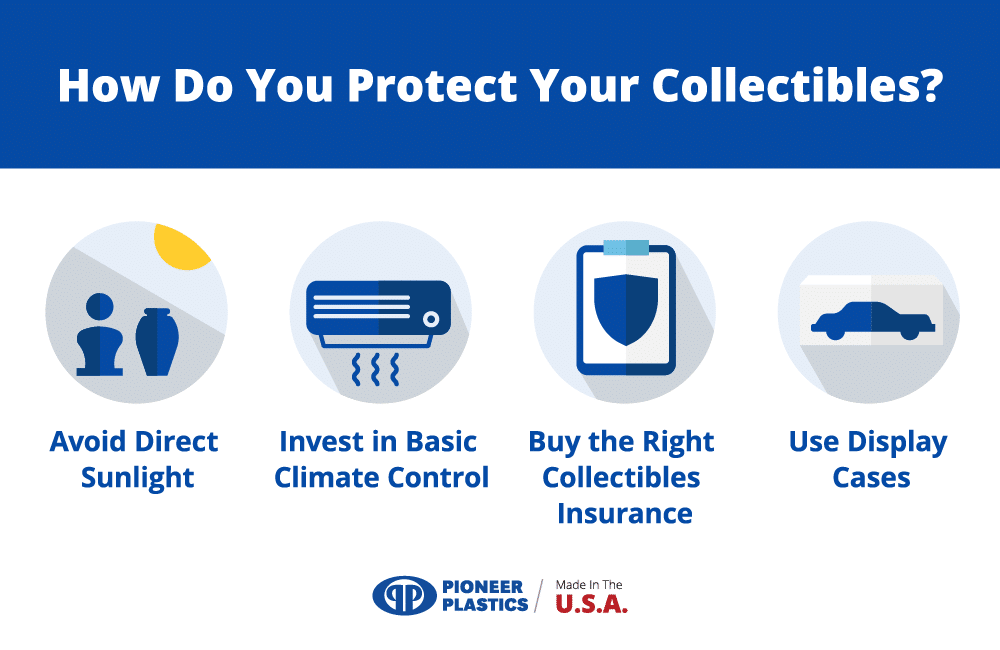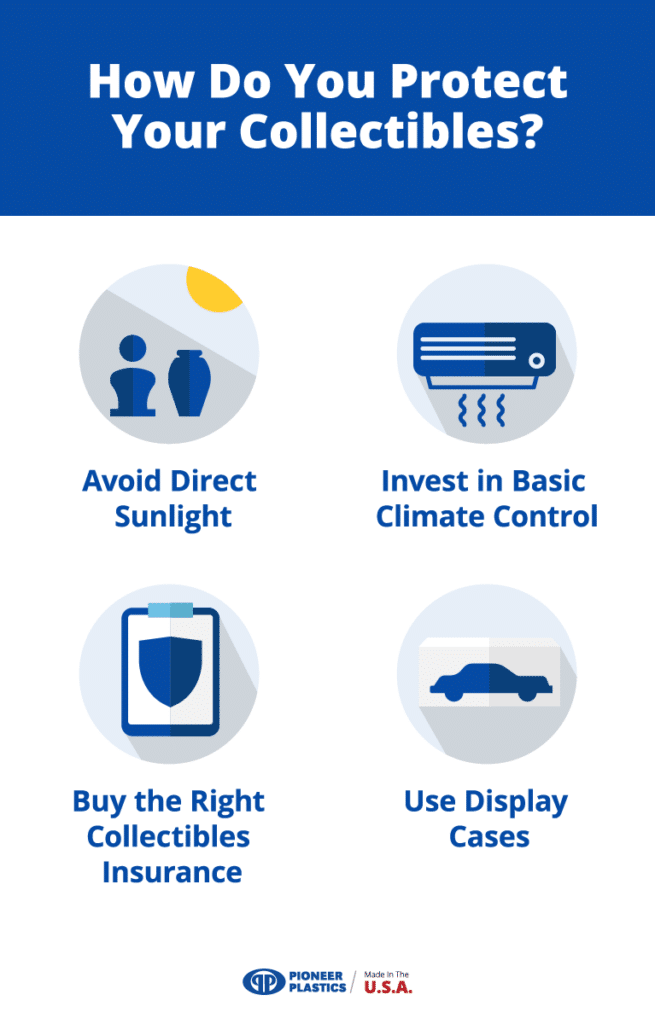 Even in the darkest corners of your house, sunlight will always be a concern when preserving your collectibles. The more direct sunlight, the more damage to your items. Light from the sun, in varying intensities, can cause: 
Drying 
Fading 
Discoloration
Warping
To avoid this, keep items away from direct sunlight at all costs. For best results, store somewhere with minimal sun exposure. A basement, garage, or room with curtained windows is a good place to start. 
Invest in Basic Climate Control 
It isn't just sunlight that you have to worry about. Other conditions like temperature and humidity can affect the quality of your collectibles, whether you're collecting something paper-based or not. 
When temperatures rise, you can expect wood, plastic, and paper items to dry and warp. If it drops below freezing, some items can expand and even crack. While dry weather can make collectibles brittle, humidity can lead to mold growth and even the eventual decay of your items. 
That being said, the average collector will not have an advanced climate control system on hand. At the very least, you can invest in some basic systems to protect your collectibles. Keeping a thermostat to check the humidity and heat levels will give you a sense of whether your items are in danger. Once you've identified an issue — cold conditions or overly humid air, for example — you can use heating, cooling, and dehumidifying tools to correct it. 
Buy the Right Insurance to Protect Your Collectibles
No matter how much you try to avoid disaster, some accidents can't be prevented. If your collection has significant value, it might be time to seek out an insurance policy that will protect your investment. 
The standard home owner's or renter's insurance policy probably won't be enough, especially for high-value items. Consider seeking out a specialty insurer well-versed in collectibles to protect a rare collection.
If you're planning on displaying collectibles, keeping them out of the sun is easier said than done. Even climate control can become challenging when you're putting items on display — you can't exactly lock them in a climate-controlled box. That's where display cases come in. 
The best way to protect your collectibles is by encasing them safely in a clear plastic display case. These cases are available in all shapes and sizes to accommodate any kind of collection. While regular acrylic cases can lead to fading over time, you can display collector's items in these cases with confidence. Ultraviolet (UV) protection keeps them safe from harmful rays of light. 
Displaying collector's items in a case puts them exactly where they belong: showcased to the world. But at the same time, you can display collectibles in peace, knowing that they're safe from harsh UV rays, exposure to the elements, and regular wear and tear. 
The Key to Protecting Your Collectibles 
If you've been trying to keep your items safe from the elements by locking them away — in a closet or even deep in your basement — there's a better way to do things. From vintage baseballs to one-of-a-kind jewelry, your favorite relics don't need to stay in a box to stay safe. 
The key to protecting your collectibles is using the right display case. At Pioneer Plastics, our crystal clear display cases are perfect for preserving each of your unique treasures. Take a look at some of our most popular products to find the perfect case for you.