Scrapbooking is a beloved hobby for many. It's a way to preserve memories and flex our creative muscles. However, for those with limited space, keeping scrapbooking supplies and projects organized can be quite a challenge.
In this blog post, we'll explore some ingenious scrapbook supply organization ideas specifically tailored to homes without a dedicated crafting room. From finding a storage area to maximizing and organizing the space, you'll soon be on your way to a tidy and efficient way to store your scrapbook supplies.
A Quick Tip—Maximize Vertical Space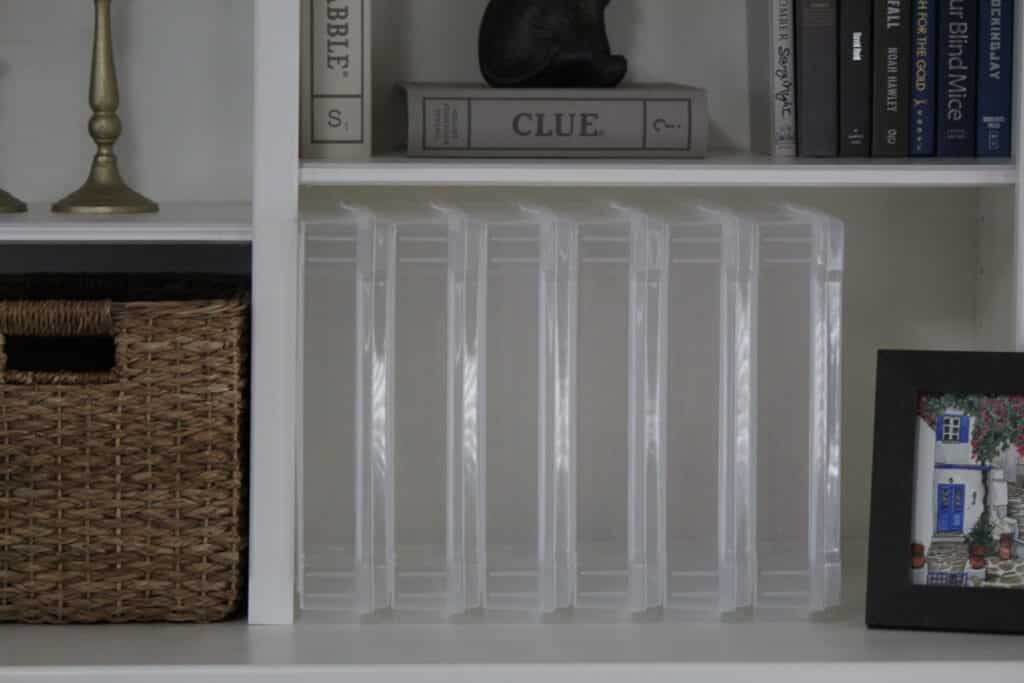 Before we get started, one of the most effective ways to organize anything is to maximize vertical space. This is something that often gets overlooked.
Using slots on bookcases or floating shelves is an excellent option for keeping your supplies within easy reach. Furthermore, utilizing pegboard or corkboard on an empty wall allows you to hang baskets or hooks for tools, supplies and embellishments, making them easily accessible and freeing up desk and drawer space.
This also applies to alternative craft supply storage areas like garages, spare rooms, or even closets.
Wherever you choose to store your supplies, take advantage of the vertical space to increase your storage area. 
Now let's dive into 3 simple tips that you can implement today.
3 Steps to Organize Your Scrapbooking Supplies
When you don't have a room, or even a wall to dedicate to your hobby, where and how do you store your items? You are forced to think outside-the-box to make your space work for you. Here are 3 steps to help you solve your craft supply storage problem.
Step #1: Determine A Dedicated Space
First things first—You'll need to find a space to store your crafting supplies. It's best to keep all of your scrapbooking materials within the same general area instead of spreading things around in different rooms. While having a craft room or a hobby corner is great for keeping things neat and tidy—not all of us have that luxury. 
Find a storage area that is large enough for your current collection with room for growth as your hobby expands.
Invest in Multi-Purpose Furniture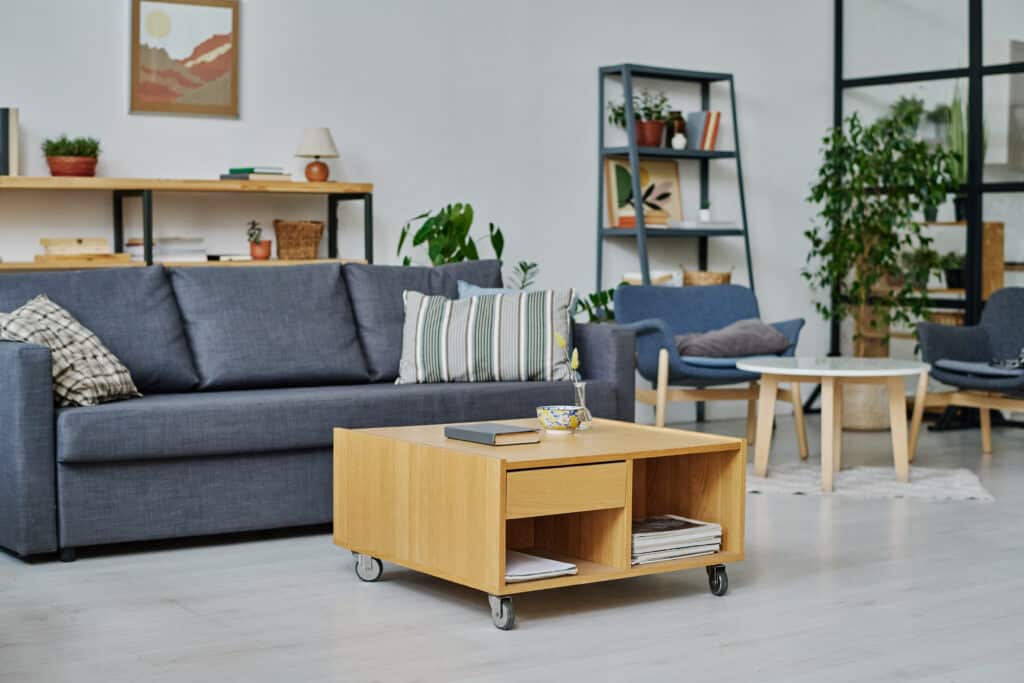 Multi-purpose furniture is a great way to maximize small spaces. Investing in pieces like a craft table, which can double as a desk, is great when you have the space for it. But when you don't have the square footage—there are other options available. 
For example, if you like to do your crafting in the living area, an ottoman or coffee table with hidden storage can provide much-needed storage space without taking up too much room.
Utilize Unused Closet Space
Repurpose a spare bedroom or hallway closet with shelves, bins, containers or even hooks to keep your supplies organized and out of sight. You might be surprised at how much real estate there is in a closet when you purge things you don't use anymore and take full advantage of the space you're left with.
Purchase Under-Bed Storage Containers
With some inexpensive bed risers, you can use the space under your bed for storage. There are many options available, from plastic storage containers to fabric storage bags that will work just fine for storing scrapbooking items.
Store Vertically in Drawers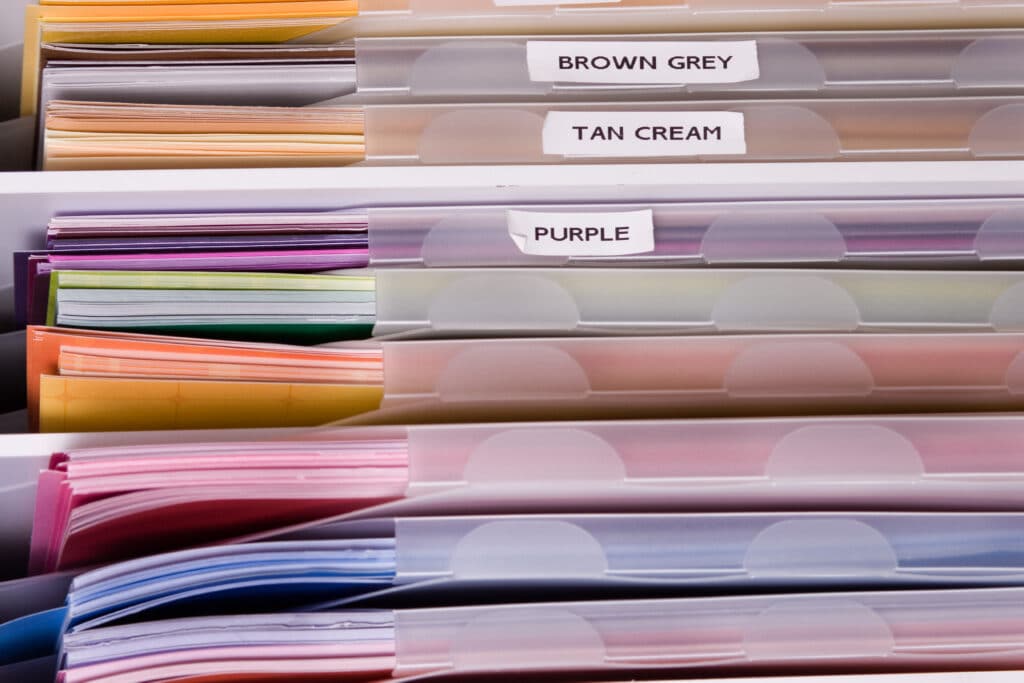 In addition to closets, drawers and shelves, don't overlook the potential of using the back of doors to hang things like shoe organizers (for supplies), hanging file storage (for paper), or over-the-door racks (for everything). This is ideal for maximizing limited space but is one of the most underutilized hidden storage areas in most homes.
A rolling cart or storage trolley is an ideal piece of furniture for storing supplies and rolling them into a separate working space when needed. It provides plenty of storage space for all of your essential supplies and can be easily moved out of sight when not in use.
If your scrapbooking collection is small, you can consider a craft bag, rolling tote or caddy. Find some protective cases to keep your paper items in and store the rest of your supplies in the pockets and compartments of the bag.
This solution is great for those who do their crafting on the go—like scrapbooking at a friend's house or on vacation. However, it's not the most practical solution if you plan to expand your crafting collection in the future.
Step #2: Find A Smart Storage Solution to Contain Your Supplies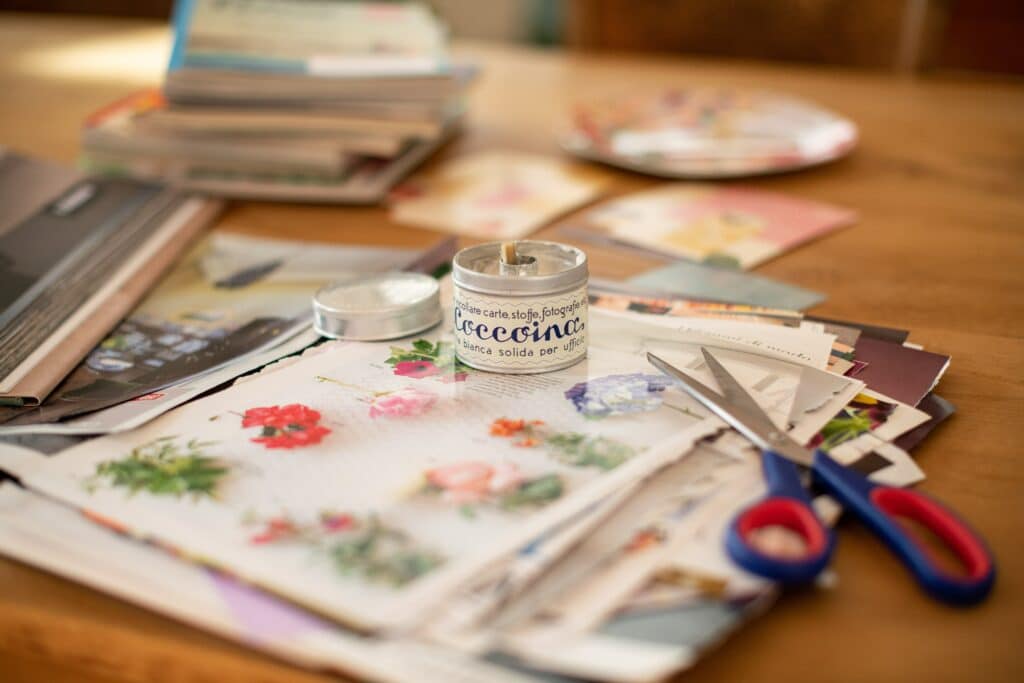 When it comes to organizing scrapbooking supplies in small spaces, investing in smart storage solutions can make a world of difference in your project productivity.
No one wants to start their project by going on a wild goose chase. Having all of your supplies neatly organized for a quick grab-and-go experience makes the process more manageable.
Now that you've selected your dedicated space, it's time to contain your scrapbooking supplies. 
The ideal scrapbook supply storage solution will have these 3 characteristics—clear, stackable, and protective.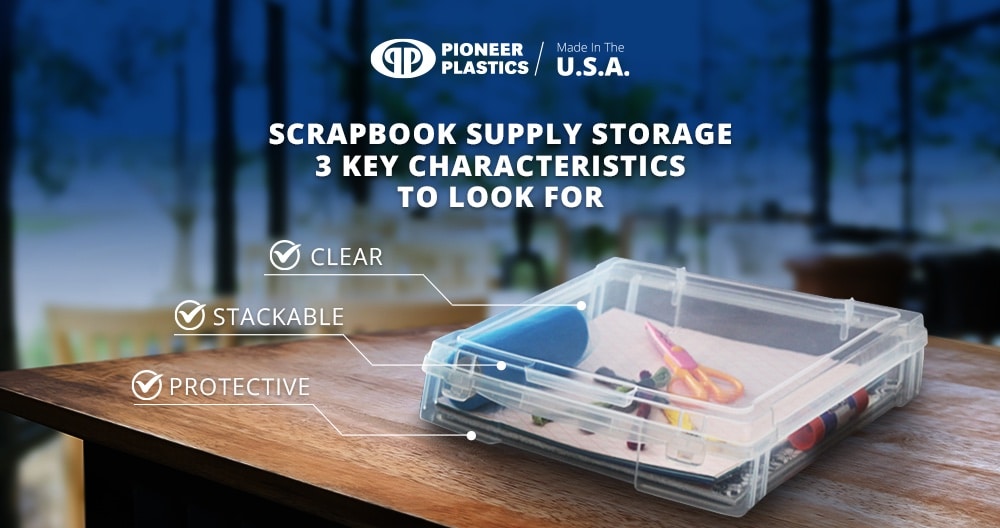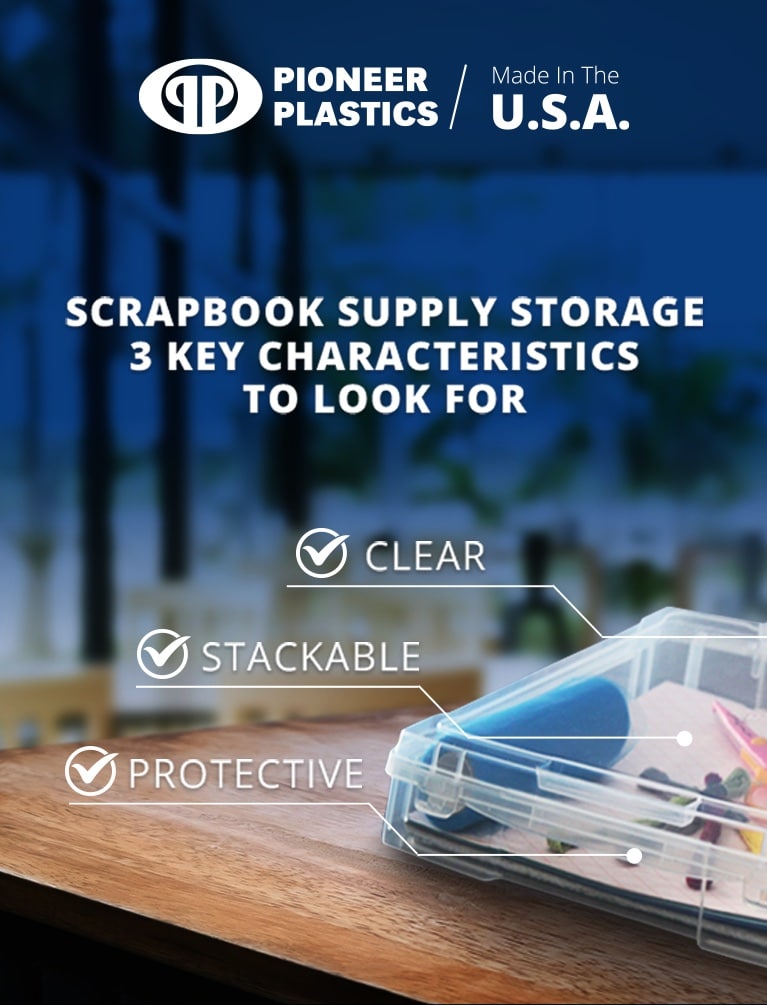 Clear storage is always ideal for craft supplies, particularly with scrapbooking. You'll want to quickly access the items you need without having to rummage through multiple containers. Transparent containment allows you to easily see your options at a glance.
Stackable clear storage bins are an excellent choice for keeping your supplies organized and easily visible. Utilize all of the space in your designated area to store more items as needed.
A storage solution that has a latch, zipper, or snap closure is ideal for protecting your scrapbook paper and supplies from moisture, dust and other damaging elements.
Additionally, Parents need to be mindful of securing their tools and supplies like scissors, glue, and X-acto knives as they can create potential hazards for curious little ones. Investing in a protective storage solution is an ideal way to ensure everyone's safety while keeping these essential items accessible.
Step #3: Categorize & Label Everything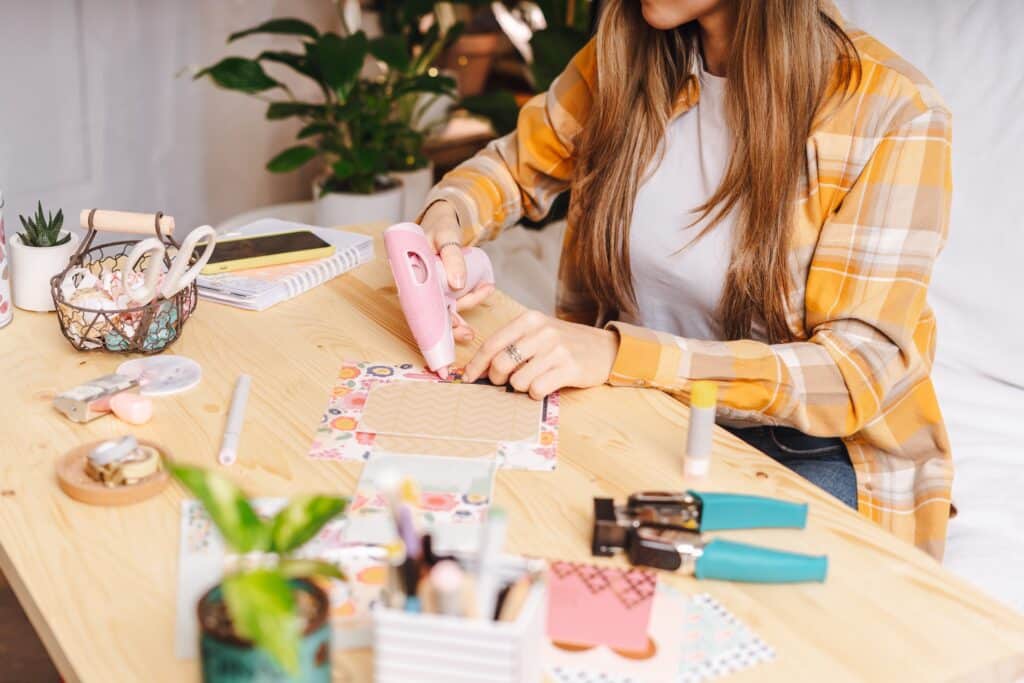 To make sure your efforts stay streamlined and orderly, categorize all items then give each category a distinct label. This will ensure maximum efficiency.
Categorize Your Scrapbook Paper and Stickers
Sort your scrapbook paper by color and/or category (such as holidays, patterns, seasons, special occasions, etc.) Store these in separate containers or envelopes or use page separators to keep them segregated. This keeps items from getting jumbled up and makes it easy to locate the supplies you need right when you need them.
Consider doing the same for your scrapbook stickers. If you prefer to have all of your like category items in one container, pop your stickers and embellishments into a ziplock bag or document envelope, then store them inside their designated category container.
Separate Scrap and Small Pieces
Keep small or fragile items like die-cuts or scrap pieces in their own container, or in a bag within a container, to keep tiny flyaways from ending up lost or bent.
Isolate Office Supplies and Bulky Embellishments
Supplies and embellishments should be kept in a separate container from your scrapbooking paper. This includes things like scissors, rulers, tape, glue, ribbon, buttons, markers and stamps. To avoid things like bent corners, scratches or cuts—designate a separate storage container for these items.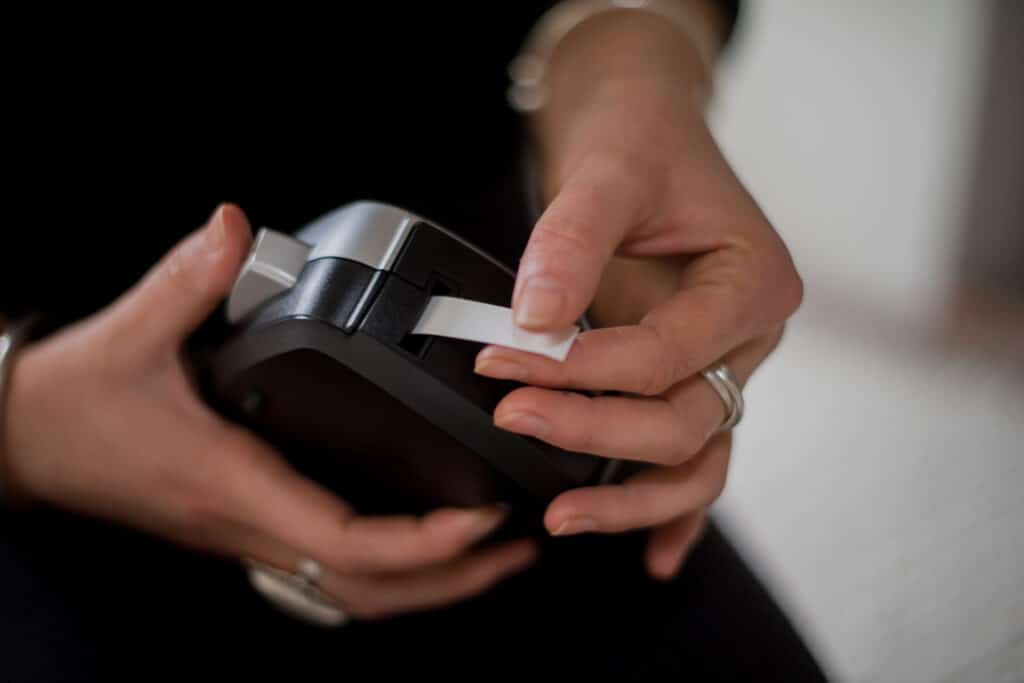 Clearly label all of your containers, bins, file organizers and drawers so it's easy to find exactly what you're looking for. Not only will this save time when hunting down a specific theme or color but also helps you keep an inventory to avoid duplicate purchases.
Pioneer Plastics' Scrapbook Storage Cases—The Ultimate Storage Solution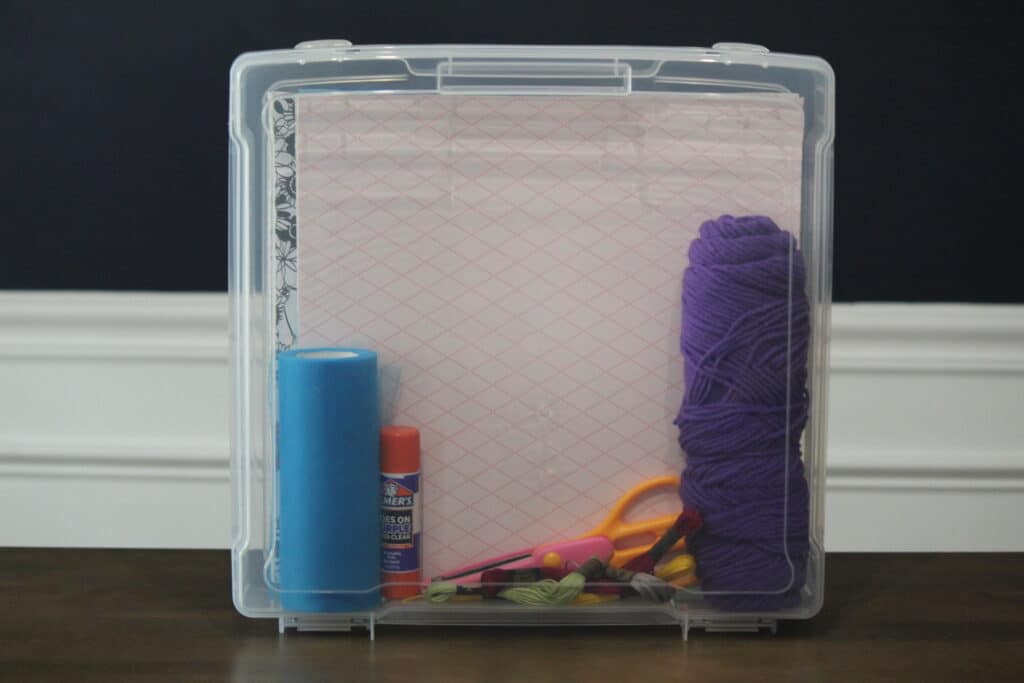 For many of us, the challenge of storing scrapbooking supplies in our homes can be overwhelming. You don't want your pastime to become an unwanted chore.
With just a few adjustments, you can enjoy your scrapbooking or crafting hobby in any space. Start by determining the best storage area, utilizing smart storage solutions for supplies, and categorizing and labeling everything. 
Pioneer Plastics offers a reliable and convenient storage solution that checks all 3 boxes for a smart storage solution.
Our scrapbook cases are perfect for storing everything from scrapbook paper to sewing supplies. It's clear design makes contents easy to identify while built-in feet enable upright or flat stacking. Plus each case comes with a snap closure so you can be sure that your items stay put. 
No more searching and digging… Soon enough even cramped quarters will feel like an organized oasis! Become a savvy scrapbooker by investing in your craft. Purchase a set of 6 scrapbook storage cases from Pioneer Plastics today!